Academic Days
3-5 November 2020
This workshop will be dedicated to researchers and experts from academia, think tanks and international organizations. Researchers from the International Research Initiative on Public Development Banks (PDBs) working groups will present their findings, covering five key challenges:
The characterization of SDG-compatible investments; PDBs' business models, governance and financial regulation; and the global development finance architecture
Open Discussion Days
9-10 november 2020
The Open Discussion Days will gather researchers, Public Development Banks representatives and other stakeholders, to reflect on the key role development banks could play for building an efficient global development finance architecture.
It aims to deliver concrete, evidence-based recommendations to decision-makers
Image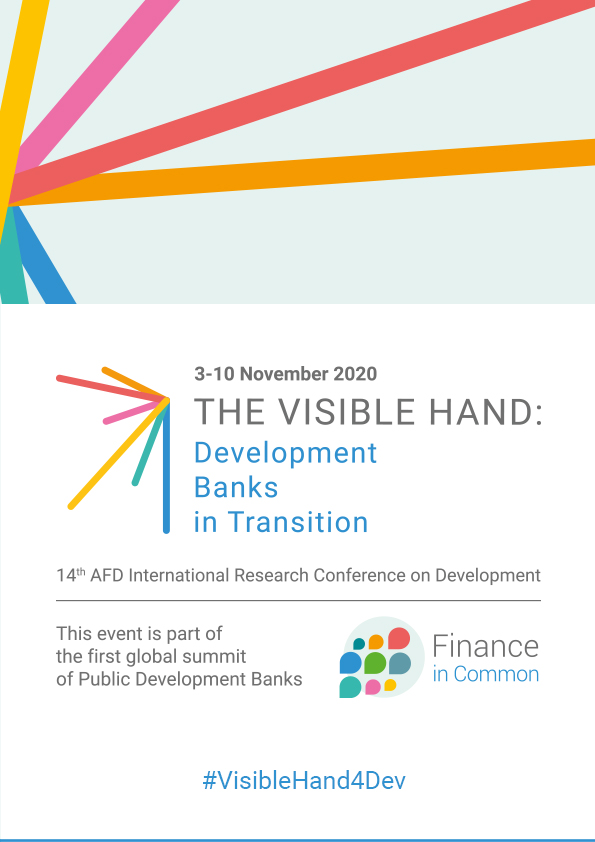 On the Road to the Finance in Common Summit
Leading up to the Finance in Common Summit, partner organizations are organizing important preparatory events – hosting dedicated workshops, discussing the Summit at previously scheduled meetings and conferences – which help to identify topics of interest, expectations and proposals regarding the role of development banks and desirable evolutions. These events and their outcomes serve as essential inputs to prepare the Finance in Common Summit and its deliverables.
9 SEPTEMBER / "From pandemic to recovery: the role of PDBs? Focus: SMEs support policies and Sustainable Infrastructure" / VEB / Webinar / English, Russian, Italian, Spanish / MORE INFO
7, 9, 13 & 15 OCTOBER / "ALIDE 2020 General Assembly | Building sustainable and resilient responses to the Covid-19 crisis –Latin America & the Caribbean. Towards a Global Summit of Development Banks" / ALIDE, IDFC, BID, BDMG / Webinar / English, Spanish
22 OCTOBER / "Les Banques de Développement face à la crise : réponse contra-cyclique et relance durable" / BOAD / Webinar / French, English / MORE INFO
26 OCTOBER / "Dealing with Uncertainty: Making Foresight Work for Sustainable Development Finance" / OECD / Webinar / English / MORE INFO
27 OCTOBER / "Scaling up climate finance in Africa" / AEIB (Afreximbank) / Webinar / English / MORE INFO
30 OCTOBER / "Common vision, common action: Towards financing sustainable food systems" / IFAD / Webinar / English / MORE INFO
To participate or to request more information about an event, send an email to contact@financeincommon.org